WELCOME TO

CHILL

'N'

GRILL

BBQ TRAILERS
STILL OPEN FOR BUSINESS 2021
Thank you for your interest in our Pantec Style BBQ Trailers. We are happy to have stayed Australian since 1998 and staying a genuine Australian Manufacturer and small business. Business is good and we thank all for your support.
Covid 19 continues to change our world...and it has made us think a bit smarter and stronger. Many more are aware of looking after fellow Aussies and supporting Australian Business, Farms, Producers and more!
Buyers of our BBQ Trailers have been:- Lions Clubs, Rotary Clubs, Sporting and RSL Clubs, Schools, Indigenous Groups, Church Groups, Rural Fire Services, Businesses, Emergency & Welfare Services.
If you are thinking that one of our great BBQ Trailers could make a difference in your community, workplace or more.... send us an email to find out more. Stay safe and healthy everyone....Australia needs you!
Our Custom Built Pantec Style BBQ Trailers are single axle, strong, compact, self sufficient, quick and easy to move around and set up, offer loads of lockable storage space and instant shelter while cooking or preparing. They will last you many years of service! They are finding their way around many communities around Australia - far and wide.
They are suited to a multitude of destinations eg. parks, sporting grounds, markets, and in emergency situations. With the addition of lighting - powered by either 12V Battery and Solar energy, they can be used day and night!
We offer three variations of these Pantec BBQ Trailers
1. Our original - Strong Steel Powder Coated Trailers - can have many options added to them. The lift up rear door and drop down stainless bench or servery is proving a popular addition.
2. Our Wider, Recessed Wheel Steel Powder Coated Trailers - can have many other options added to them. And the rear lift up door and drop down stainless bench or servery also popular
2. Our more recent - Aluminium Composite Trailers - Lighter build, still compact and lighter on the pocket. They just don't suit for loads of big options but are a good set up and come standard with three lift up doors.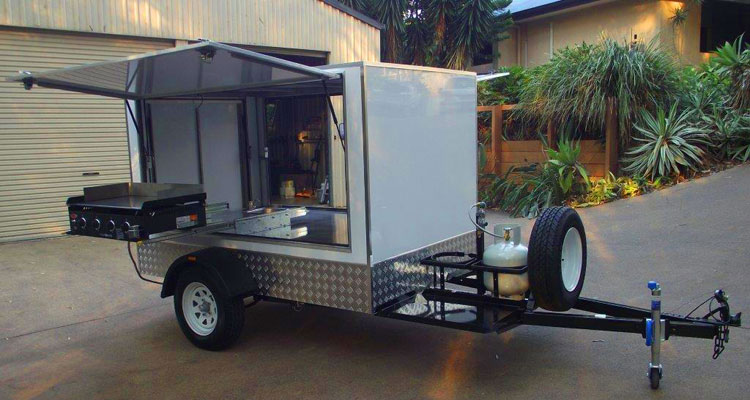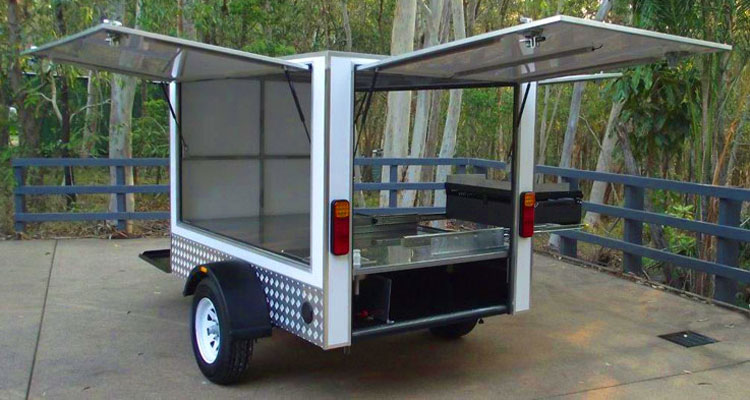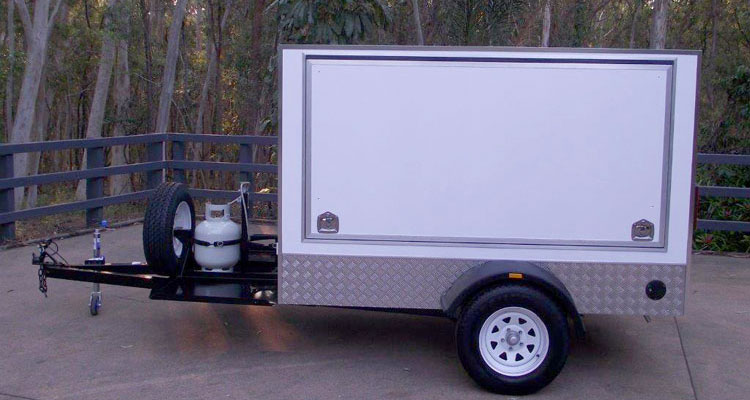 Photos above of the light weight Aluminium Composite Trailer. See our header and our gallery for many photos of our Steel Powder Coated Trailers.

All our BBQ Trailers come with these standard inclusions that meet Health and Safety Regulations
2.1mtr W x 2.4mtr L x 2mtr H Pantec Quality Built Trailer with good size drawbars for easier towing - Drawbars 1.8mtr Aluminium Composite and 2.1mtr for Steel Powder Coated trailers
Steel Trailers come standard with two large hydraulic lift doors
Aluminium Composite Trailers come standard with three lift up doors - extra one at rear
2 x Mounting Pads off Drawbar to contain up to 70 Lit Eskys, Generator or a Storage Box

Inside

Stainless Steel Food Graded Preparation Bench
Stainless Steel Sink with Drainer and Pump Up Water Tap connected to water tank under the trailer
80 Litre Food Graded Water Tank
1 x Four Burner Commercial BBQ - on slide - cooking done outside of trailer
Good under bench storage area - great for tables, chairs, BBQ tools and accessories
2 x 9Kg "Van Approved" Gas Bottle/s and includes mount, regulator and fittings.
Gas Certification and 12months Warranty
All our BBQ Trailers are fully lockable - Key Locked - one key fits all
We organise the Queensland registration ... making it easier to change over to interstate if needed.
Signwriting - we have a great graphic designer/sign writer on board to help you bling up your trailer
Our Custom Built Pantec BBQ Trailer with the options you require and can be custom built and ready for use within usually 10 - 14 weeks of a confirmed order order
We always try to have trailer orders ready on time and

we will

keep you informed during the build!
We offer FREE delivery (and demo) to destinations within 3 hours drive of Brisbane!
So what are you waiting for?
We look forward to assisting many more clubs, groups, businesses etc Australia Wide.
Send us an email to find out more!
We can supply prompt Quotes for those applying for Grants!