WELCOME TO CHILL 'N' GRILL BBQ TRAILERS
WE ARE OPEN FOR BUSINESS!
We are business as usual and still selling and custom building our BBQ Trailers.
We survived the cheaper Chinese imports with our camper trailers and we will survive this Chinese Covid - 19 with our BBQ Trailers! We look forward to hearing from you!
Do the right thing and stay safe and healthy everyone....Australia needs you!
Chill n Grill BBQ Trailers is a "Genuine" Australian Manufacturer and family business dealing in specialised trailers for over 22 years. We are proud to have stayed Australian and have a great reputation for our trailers and for our good, reliable and honest personal service.
Our Custom Built Pantec Style BBQ Trailers are strong, compact, self sufficient, quick and easy to set up, offer loads of lockable storage space and instant shelter while cooking or preparing. They will last you many years of service!
The way they are set up allows them to be used in a multitude of destinations eg. parks, sporting grounds, markets, and in emergency situations. With the addition of lighting - powered by either 12V Battery, Solar, Generator or 240V, they can be used in day and night!
They are finding their way to many community and welfare groups, schools, businesses, and even emergency services.
We now offer two types of Pantec Trailers
1. Our original extra Strong Steel Powder Coated Trailers
2. NEW - Strong, lighter in weight & the pocket - Aluminium Composite Trailers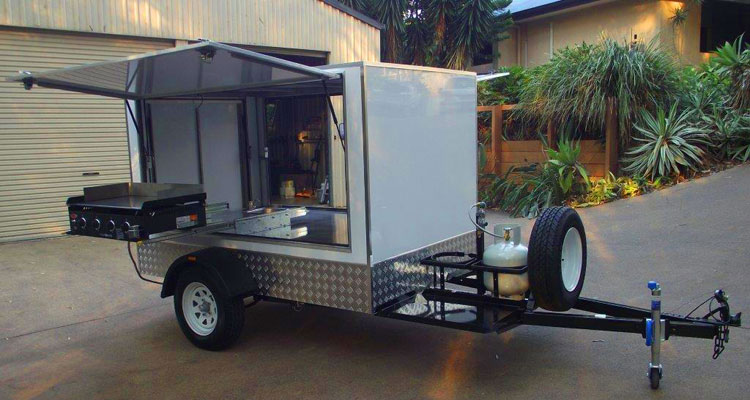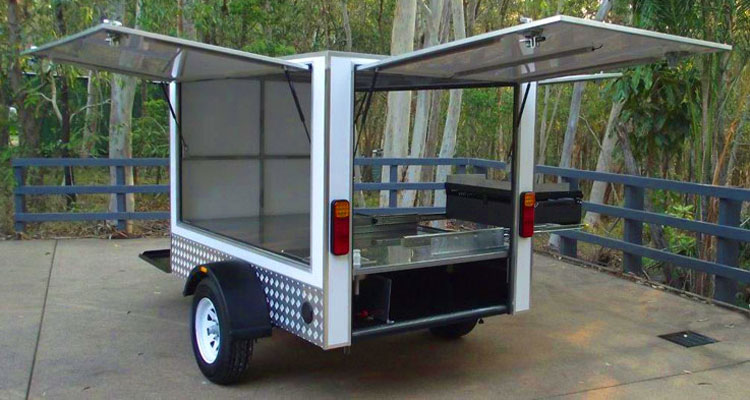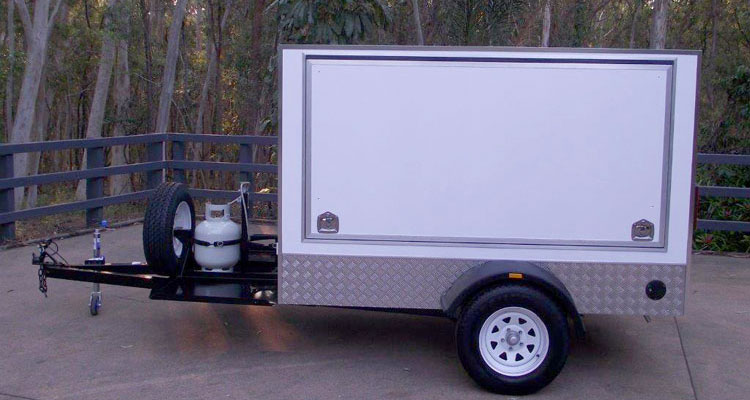 Both styles come with these standard inclusions -
2.1mtr W x 2.4mtr L x 2mtr H Pantec Quality Built Trailer with good size drawbars for easier towing - Drawbars 1.8mtr Aluminium Composite and 2.1mtr for Steel Powder Coated trailers
Steel Trailers come standard with two large hydraulic lift doors
Aluminium Composite Trailers come standard with three lift up doors - extra one at rear
2 x Mounting Pads off Drawbar to contain up to 70 Lit Eskies, Generator or a Storage Box

Inside

Stainless Steel Food Graded Preparation Bench
Stainless Steel Sink with Drainer and Pump Up Water Tap connected to ....
80 Litre Food Graded Water Tank - under the trailer
1 x Four Burner Commercial BBQ - on slide - cooking done outside of trailer
Good under bench storage area - great for tables, chairs, BBQ tools and accessories
Set up 9Kg "Van Approved" Gas Bottle/s and includes mount, regulator and fittings.
Gas Certification and 12months Warranty
All our BBQ Trailers are fully lockable by one key and we can organise the registration for you.
Lighting options - 12V LED Strip Lighting/Spotlights, 240V Fluro, Spotlights or Floodlights
Grey Water Tanks
Slides, Roof Racks, Internal Shelving, Divider Walls (eg Cooking one side and Workstation, Display area other side), Caddies
We can build wider trailers with recessed wheels
Your Custom Built Pantec BBQ Trailer with all options you require and can be ready for use within 6 - 12 weeks or order and dependant on options required!
Your trailer will be ready on time! We will keep you informed during the build!
We offer FREE delivery (and demo) to destinations within 3 hours drive of Brisbane!
Signwriting - We can recommend our own good local Sign Writer with any of your sign writing request for Club/Business/Association names, logos etc.
So what are you waiting for....We look forward to assisting Schools, Clubs, Community Groups, Sporting Clubs, Businesses, Welfare and Emergency Groups with a great BBQ Trailer for all you "Chilling and Grilling" needs.
Send us an email to find out more!
We can supply prompt Quotes for those applying for Grants!